Every now and then, usually when listening to the radio, I worry that rock music is fading from popularity.
It's a silly thing to worry about, really. I'm not sure there are many types of music that really ever fade away completely. And even if rock were to wither away, modern resources will doubtlessly permit the few remaining acts to continue to produce music for their few remaining fans. But that kind of hypothetical situation really doesn't matter. Rock isn't dying out, because David Cook is the new American Idol.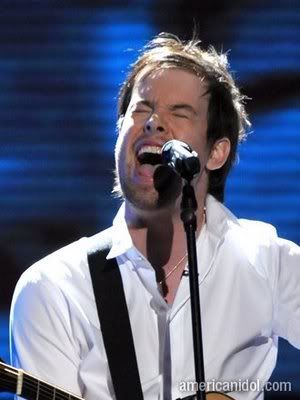 According to Ryan Seacrest's approximation, there were twelve million more votes for the rocker than there were for the balladeer. Twelve million. The pulse of rock and roll is still strong in America.
I really look forward to David Cook's studio work. The man has such versatility with his voice and his emotions. It's something refreshing that a lot of mainstream rock has been lacking in recently. I don't know much about Cook's guitar skills or songwriting skills, but as long as he sings his heart out, his stuff should be pretty good.
I suppose I'm acting like some idiotic fanboy, but I seriously can't wait for him to get recording.
Anyway, I'm glad that David Cook won. He certainly deserved it, and it's nice to see some nationwide appreciation for a truly great rock vocalist.